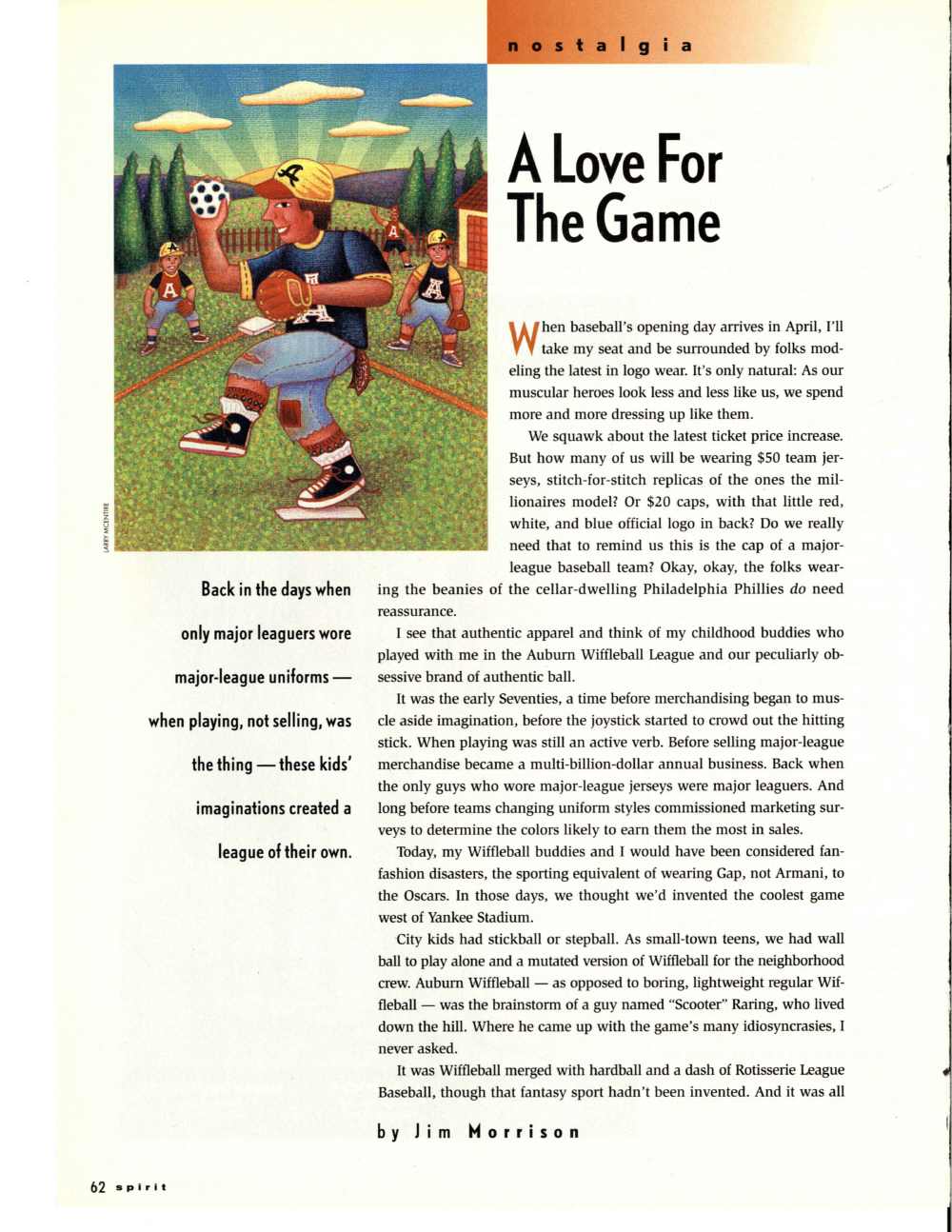 When baseball's opening day arrives in April, I'll take my seat and be surrounded by folks modeling the latest in logo wear, fantasies bought straight off the rack. It's only natural: as our muscular heroes look less and less like us, we spend more and more dressing up like them.
We squawk about the latest ticket price increase. But how many of us will be wearing $50 team jerseys, stitch for stitch replicas of the ones the millionaires' model? Or $20 caps, with that obnoxious little red, white and blue official logo in back? Do we really need that to remind us this is the cap of a major league baseball team? Ok, ok, the folks wearing the beanies of the cellar-dwelling Philadelphia Phillies do need reassurance.
I see that authentic apparel and think of my childhood buddies who played with me in the Auburn Wiffleball League and our peculiarly obsessive brand of authentic ball.
It was the early 1970s, a time before merchandising began to muscle aside imagination, before the joystick started to crowd out the hitting stick. When playing was still an active verb. Before selling major league merchandise became a multi-billion-dollar annual business. Back when the only guys who wore major league jerseys were major leaguers. And long before teams changing uniform styles commissioned marketing surveys to determine the colors likely to earn them the most in sales.
Today, my Wiffleball buddies and I would have been considered fan fashion disasters, the sporting equivalent of wearing Gap, not Armani, to the Oscars. In those days, we thought we'd invented the coolest game west of Yankee Stadium.
City kids had stickball or stepball. As small town teens in Pennsylvania's anthracite coal region, we had wall ball to play alone and a mutated version of Wiffleball for the neighborhood crew. Auburn Wiffleball -- as opposed to boring, lightweight regular Wiffleball -- was the brainstorm of a guy named "Scooter" Raring, who lived down the hill. Where he came up with the game's many idiosyncrasies, I never asked.
It was Wiffleball merged with hard ball and a dash of Rotisserie League Baseball, though that fantasy sport hadn't been invented. And it was all about losing yourself for hour after hour in the game.
Our version required some exotic equipment. Like electric tape. We wrapped Wiffleballs in electric tape so they would carry farther. Sometimes, just for fun, they were purposely misshapen so they'd dance on wind currents on the way to home plate. Our bats, too, were homemade. We modified a plastic Wiffleball bat, slipping a broomstick inside and wrapping the bat handle in tape to give it heft, again to make the game more like hardball.
How outs, singles and doubles were recorded is too complicated to explain. Besides, it shifted depending upon how many guys took the field. Sometimes, we pitched to teammates if the other guys didn't have enough players. Sometimes the pitcher was also the first baseman. It didn't matter. What mattered was playing, just playing.
Playing and, of course, dressing properly. We bought cheap plastic batters' helmets, replicas of our favorite major league teams. When our allegiances shifted, we painted over them, changing colors and logos faster than Lou Brock could swipe a base. One day a helmet bore the colors of the Chicago White Sox, the next day it was the Atlanta Braves. No one had real jerseys in those days. We made our own. A few were homemade sewing projects; others were crude replicas drawn with permanent magic marker. More than one mother screamed when those colors turned out to be less than permanent in the hot cycle.
Making our own rules and equipment were just small parts of our industrious obsession with bringing the major leagues home to our town. We created a playing field in a weedy meadow lined on two sides by forest. Just to make it official, we liberated a home plate from an unused local field and borrowed a red picket snow fence from a local highway for the summer.
Our expanse of green, like Wrigley Field or Fenway Park, had its own quirks. The ground sloped up in right field. Great for making a break to catch that sinking line drive downhill from you. Tough to go back uphill to snag a long fly ball. A rotting garage formed part of the short porch in right field. Along the lines, overhanging pine trees were in play, occasionally turning sure singles into easy ground outs when a branch reached out knock down a screaming liner.
Our obsession with realistic fantasy didn't end with hand-painted helmets, homemade shirts and a quirky park. Games pitted the lineup of one major league team against another. So when it came time to bat, we consulted Scooter's big binder notebook, which contained the batting order of each major league team ripped from the pages of The Sporting News.
Rules required that you batted just like your fantasy counterpart. So if you found yourself hitting cleanup for the A's in Reggie Jackson's slot, you had to hit left-handed, even if you were naturally right-handed.
Weekends meant quintupleheaders -- sometimes after organized hard ball practices -- played until dusk threatened. That meant plenty of time for one fantasy matchup after another. We had the mannerisms down, like acting students mimicking the great roles. Willie Stargell windmilling his bat waiting for Tom Seaver's pitch. Joe Morgan flapping his elbow before swinging against Bob Gibson. Roy White, hands held low, waiting for a dancing curve from Mickey Lolich.
The reasons why we spent so much time playing our game may be lost to the innocent fascination that lives only in the young. I read recently that a Wisconsin company is selling an instructional videotape called "The Games We Used to Play" that features no-tech thrills like leapfrog, kick-the-can and stickball. Never mind the irony of learning them by sitting in front of a video. But apparently creating games out of sticks and stones and balls is becoming a lost art.
Maybe we created our game because we had nothing else. No video game so realistic it elbowed out our imaginations and held us hostage inside. No all-sports channel to hypnotize us. For us, the playing was the thing.
We just had a bat and a ball and a little imagination – along with a love for the game more authentic than any official jersey.