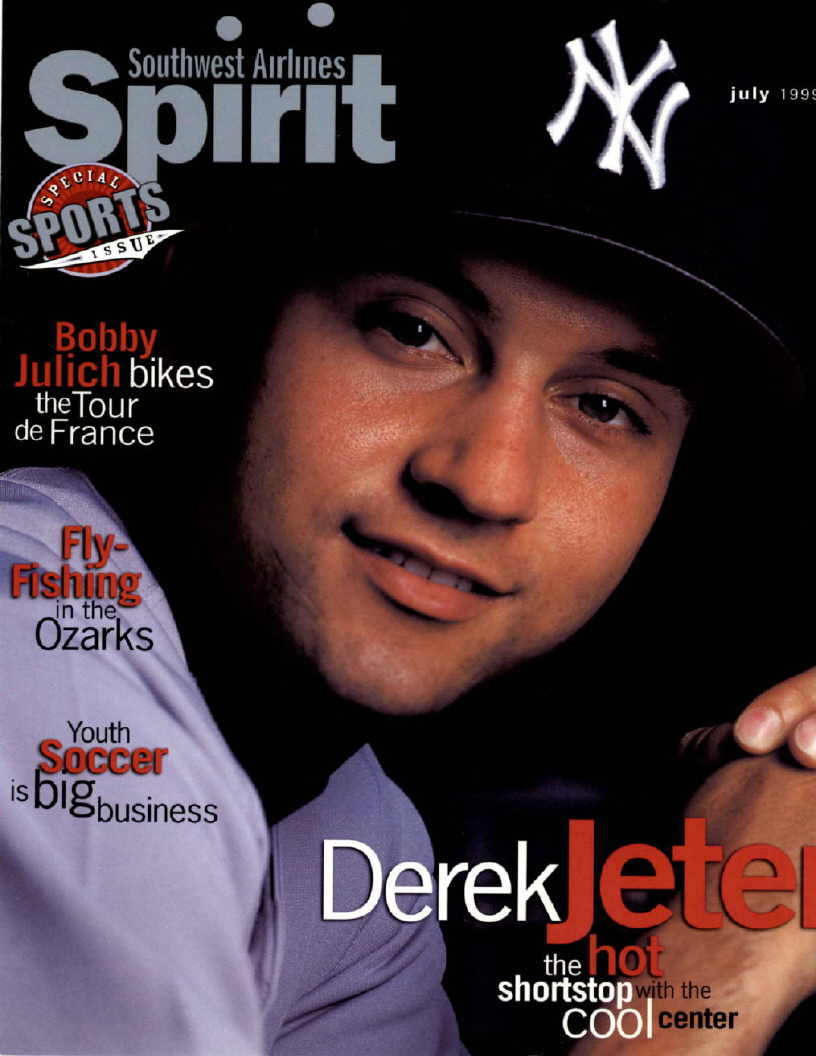 "Sign it Hall of Fame 2018," cracks Jim Palmer as Derek Jeter autographs a ball for a clubhouse boy at Yankee Stadium. Jeter chuckles, modestly shrugging off the suggestion by the Hall of Fame pitcher who is now a broadcaster.
It is, after all, only the fourth season for the lanky New York Yankees shortstop. He's 24. It's a long way to the Hall of Fame from here. But then it's a long way to the perfectly manicured infield of the legendary field in the Bronx from Kalamazoo, Michigan where Derek Jeter fielded his first grounder.
Jeter has navigated that journey with the easy grace he displays day after day on the field so there's a natural, if premature, inclination to expect he'll do the same over a long career. And why not? Jeter's parents told him he could be whatever he wanted to be if he worked hard enough. And what he wanted to be -- the only thing he wanted to be -- was the shortstop of the New York Yankees, his grandmother's favorite team.
Just minutes before Palmer strolled through the Yankees clubhouse, Don Zimmer, the team's assistant coach, sat in the dugout marveling at Jeter. Zimmer has been in baseball for 50 years, since signing with the Brooklyn Dodgers out of high school. He's been a player, a coach and a manager. He's one of those old-school guys, the kind with an appreciation for the game's history and traditions. That means he doesn't flatter just any player.
He's asked what shortstop over those five decades compares to Jeter. None, he says. Not one. "He's one of a kind," Zimmer, 68, adds without hesitation. "He's a special person. I've seen a lot of guys change, but I hope I'm alive eight years from now to see him. I don't think Jeter will change."
On the field, Jeter is a rising star. He has become the cool center, the heart, of a team that set a record last year for victories and may be a modern Yankees dynasty in the making.
Baseball, of course, is obsessed with numbers. Since he was named Rookie of the Year in 1996, his have only gotten better. Last year when the Yankees won their second World Series in three seasons, Jeter batted .324 with 19 home runs and 84 runs batted in. He earned his first trip to the All-Star Game and finished third in the Most Valuable Player voting. But the numbers -- and the accolades -- are only part of the story.
He made the major leagues as a 20-year-old, but he presumes nothing. "I always say until you hit 1.000 and make no errors you have something to work on," he says. During the offseason, Jeter bought a house in Tampa. Not because of the climate or the architecture or the restaurants. Because it's where the Yankees have their winter training facility. He wanted to work on a few things. Never mind last year's numbers.
"Over the last three years, his improvement has been phenomenal," says Paul O'Neill, the Yankees' intense, helmet-flinging rightfielder. "That's the thing. He's one of the better players in the league now. But he's still not as good as he's going to get. You can't say that about everybody."
Off the field, Jeter is beginning to rival Kate Moss as a cover model. GQ and Sports Illustrated have featured him. MTV and David Letterman came calling. He receives about 60 letters a day, three times more than any other Yankee. When Bob Sheppard, the Yankee Stadium announcer for nearly five decades, somberly intones "Number 2. Shortstop Derek Jeter. Number 2," the reception is an octave or so higher thanks to the girls squealing at his James Dean eyes. Check the world wide web and there are dozens of pages devoted to Derek with titles like "My Derek Jeter Obsession," "Jenn's Jeter Joy," "Amy's Eye Candy" and "My Derek Jeter Dream World."
Nike noticed, signing Jeter to Michael Jordan's boutique brand. Other endorsements roll in day after day. Discover features him in television commercials admitting he can't cook and orchestrating a stay-at-home date with his credit card. Florsheim likes the way its shoes shine on his feet. Skippy peanut butter thinks he's the right guy to make kids slap their brand on a PB&J sandwich.
"Jeter has obtained the type of fame that almost transcends the game at an early age," says David Cone, the Yankees pitchers who knows something about being young and on a contending team in New York from his days with the Mets. "It's very unique. Every city we go to, there's fans who want to see Derek."
That's a prescription for an old-fashioned swollen head, what these days might be called a Belle Head, after the Baltimore Orioles notoriously moody outfielder. But Jeter remains about as modest as a handsome, single, multimillionaire Manhattanite can muster. Ask him why and he says it's because he wants to go home to his parents. His parents, he says, just won't stand for anyone with a big head. Never have. Not even back in high school when he got A's and batted .508 for Kalamazoo Central High.
"One thing you learn from playing baseball is this is a very humbling sport," Jeter says getting dressed one afternoon earlier this season for a game with the Baltimore Orioles. "You can be on the top one minute the bottom the next. You can go 5-for-5 one day and 0-for-5 the next. I think you have to be on an even keel. You've got to be able to take the good with the bad. Not get too high and not get too low."
Don't check your calendar. This is 1999, not 1927. And that was the Yankees number 2, Derek Jeter speaking, not number 4, Lou Gehrig.
But then this is a player who in the midst of his rookie season with the Yankees in a pennant race sat down with his father in a Detroit hotel room and said he was going to start a foundation to help kids.
It was something he'd always planned to do. Growing up, Dave Winfield, the Yankees leftfielder, was his idol. Jeter still remembers waiting in the parking lot of Tiger Stadium one day in 1986 to snag his hero's autograph after a game. "He was he best all-around athlete in the sport," Jeter says. "And he did a lot for kids with his Winfield Foundation. I was a big fan. I still am today."
It's an offhand admission. But it belies an honest modesty. Jeter is so young that he's now playing alongside and against players he worshipped as a kid. Joe Torre, the Yankees manager, sent offseason letters to his players a couple of years back. He signed the one he sent to Jeter "Mr. Torre" because that's what Jeter called him. He still does.
Jeter realizes what it's like to be young and think there's nothing more important in the world than your team and your favorite player. "It wasn't too long ago that I was a kid. I looked up to professtional athetes because that's what I wanted to be," he says. "Whether you want to be or not, you're going to be a role model.You have to understand that kids are looking up to you. You have to watch the decisions you make."
And, he adds, you should take advantage of being that role model, use the platform for good. Refreshingly, it's an attitude increasingly held by other baseball superstars with a platform, including Mark McGwire who has championed against child abuse.
Jeter named his organization the Turn 2 Foundation after the baseball phrase for making a double play, a vital skill for a shortstop. His father, Charles, a former drug and alcohol counselor and consultant, now runs the foundation. In less than three years, it has raised more than $700,000 for organizations in the western Michigan and New York areas like Phoenix House, the Girls and Boys Clubs and others. It takes youths to games at Yankee Stadium, ComiskeyPark in Chicago and Tiger Stadium in Detroit. It sponsors baseball clinics in New York's five boroughs. And the foundation's first two scholarship students are attending the Massachusetts Institute of Technology and WesternMichiganUniversity this year.
When I ask his father, Charles, for an anecdote showing his son's character, he recalls the night in Detroit when Derek reminded him that he was going to keep his boyhood pledge to give something back.
"Even though all the things were going on for him with the Yankees to sit down in Detroit late at night over a pizza and say to me he wanted to start a foundation. I was proud," he adds. "I was proud of him."
Derek Jeter may be among the youngest of the Yankees, but watching him move through the lockerroom before and after games he has the quiet confidence of a leader. There's an often spoken expectation that one day he'll become the next Yankee captain, a position now vacant and last occupied by Don Mattingly, the retired first baseman. His locker is separated by a bat rack from the locker of Thurman Munson, empty as a memorial to that Yankee captain since his death in a 1979 plane crash.
Baseball players spend more time with each other than any other team sport. They play a few dozen exhibition games, 162 regular season games and, if they're as lucky as Jeter and his mates, another 15 or so postseason games. Getting along -- chemistry is the overused sports page term -- is as important as talent. Despite playing in a media terrarium, the Yankees have it. They do the right things and say the right things off and on the field. At their center, is Jeter, the kind of guy everyone seems to respect and like.
His father describes him as possessing an "arrogant inner self" that others see as confidence, not cockiness. "He has that quiet confidence," he adds. "If you tell him he's not going to do something, he'll show you he can do it."
It's a confidence that plays out day after day in ways big and small. Watch Jeter one day mediating between several players to change the lockerroom music before a game. Another day, he's kidding backup infielder Luis Sojo about his repeated requests for some of the free shoes Jeter earns through his endorsement deal. Another day, early in the season, he's egging Tino Martinez to join him in mimicking Chuck Knoblauch's pregame routine. Knoblauch has been on a hot streak so when he grabs a big cup of coffee, so do Jeter and Martinez. And when he sits down on the couch to watch television, the duo flanks him. Just something to keep everyone loose, relieve the tedium of playing day after day.
Every day, Jeter rubs Zimmer's fuzzy Popeye-head before a game for good luck. When the strands get too long, Jeter instructs Zimmer to "tighten that up." The aging coach complies, heading off to the barber the next day. Could anyone else get away with it? Probably not.
But Jeter earned Zimmer's respect early in his career. Midway through his rookie season, 1996, Jeter was on second base with two outs and power hitter Cecil Fielder at the plate. On his own, without manager Joe Torre giving him the sign, he tried to steal third base and was thrown out by a mile. It's a cardinal sin in baseball to make the third out at third base, especially with a hitter like Fielder at the plate who could produce two runs with one swing. Torre told Zimmer, sitting next to him, that he wasn't going to say a word to Jeter when he returned to the dugout, despite the gaff
The manager didn't have to chastise his young star. Jeter took his helmet off at the end of the dugout then made the long walk to where Zimmer and Torre were. He sat down, just waiting to hear an earful. Zimmer and Torre could only chuckle.
"I knew I messed up. He knew I messed up," Jeter explains. "You don't hide from it."
Accepting responsibility as well as keeping on an even keel is something Jeter learned from a young age in the Kalamazoo household of his parents, Charles and Dorothy.
Charles Jeter is black and from Alabama and Dorothy Jeter is white and from New Jersey. Their son has been at ease with people of all backgrounds since he was a youth. He also has wanted to play shortstop for the Yankees longer than he can remember.
He and his younger sister, Sharlee, would spend a month each summer with his grandmother, Dot, who lived in New Jersey and was a rabid Yankees fan. She took him to his first games at Yankee Stadium, told him stories about listening to the radio and hearing Joe DiMaggio's bat crushing a curveball and about going to the Stadium to walk past Babe Ruth's casket in 1948. Derek would get up at dawn and bug his grandmother to come out and have a catch.
He told his fourth-grade teacher he wanted to be a Yankee, wrote an essay in eighth grade about playing shortstop for the Yanks and in 11th grade completed an assignment to create a coat of arms unique to his personality. It featured a picture of a Yankee at bat.
At home, there was a structure and expectations. His father championed modesty, telling his children again and again never to be one of those people who pat themselves on the back so much they're going to end up breaking an arm. Charles and Dorothy praised their children's accomplishments, but also reminded them there was room for improvement, whether on the field or in the classroom.
Each August, Derek sat down with his parents and wrote out a contract on a yellow legal pad for the upcoming school year. They agreed to terms on grades, on sports, on extracurricular activities, on curfews, on how to handle drugs. "I think it gave him some sense of ownership," Charles said. There were consequences -- being grounded, withholding the car -- for breaking the contract. "No kids are perfect," Charles adds. "Our sure weren't; those were some of the punishments we'd use."
Their kids may not have been perfect, but they were pretty good students and athletes. But Charles says he didn't think about Derek becoming a major leaguer until his son participated in a Minnesota Twins tryout camp as a tenth grader. The other prospects were older, but Derek held his own. "If he wants to do it, if he works hard," Charles thought, "then he's going to have an opportunity."
By his senior year, Derek was one of the best baseball players in the country. He'd signed a letter of intent to the University of Michigan ("he could have gone to any school in the country," Charles says), but he also had the option of signing with a major league team.
Fulfilling his dream and becoming a Yankee seemed unlikely. There were rumors Derek would go to the Houston Astros, who had the first pick. At the least, it seemed the Cincinnati Reds, who picked fifth, would grab him. Instead, the Astros plucked a college player named Phil Nevin, while the Reds grabbed a Florida outfielder named Chad Mottola. The Yankees, picking sixth, nabbed Jeter. "I can still see him that day; I can remember him getting that phone call," Charles said. "The look on his face."
Later that year, Jeter took another trip to Yankee Stadium. This time it wasn't as a fan; it was as a minor leaguer invited to take batting practice in the House That Ruth Built. "It was really an overwhelming experience," he says. And you believe him, you get the sense that Jeter is still a little in awe that his dream has come true.
In spring training this year, Jeter and Tino Martinez were taking batting practice. On the field, Whitey Ford, the Hall of Fame pitcher and World Series winner, was collecting balls. Nearby were Reggie Jackson, the Hall of Fame slugger and another Series' hero as well as Goose Gossage, Ron Guidry and other legends. "You get spoiled here," Jeter says. "There's a lot of tradition."
Jeter knows that tradition. He knows, for instance, that Bobby Murcer and Frank Crosetti wore number 2 before him (as did Wayne Tolleson, a utility infielder, and Paul Blair, a centerfielder, in the 1970s). He knows that number 2 and number 6 are the only single digit Yankees numbers that have not been retired. The others belong to some of the game's greatest names. Billy Martin (1), Babe Ruth (3), Lou Gehrig (4), Joe DiMaggio (5), Mickey Mantle (7), Yogi Berra and Bill Dickey (both 8), and Roger Maris (9).
Looking around the Yankee lockerroom before a game earlier this season, Jeter pauses, as if considering the weight of that legacy. And then he smiles at his good fortune.
"I may be the most spoiled person or the luckiest person of all time," he says.
It is a typically modest assessment.
--------END-------