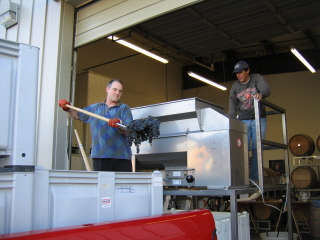 "I'm sleepy and I'm cranky and I'm hungry and I don't smell good, either," Bruce Zunser tells Tim Narby as he creaks stiffly out of his red Ram pickup, parked in front of the doors of a generic warehouse complex south of Seattle. Stacked in the bed are four gray plastic containers filled with the first pick of the year, nearly two tons of Merlot grapes.
It's 6:06 p.m. on a late summer evening. Zunser left his home on Mercer Island at 3:15 a.m. to drive across the state, supervise the picking at his vineyard in Mattawa and then cruise here. Narby left his office at Boeing about an hour earlier for this, his second job and primary passion: making wine.
This is the start of crush season, the annual harvest marathon. Already, there's been a glitch. The two friends he expected to help begged off, so he's shorthanded. He has a new $8,000 crushing machine atop a stand he designed, but he's not quite figured out how to position it for maximum efficiency.
He's not worried, though. "Four bins (of grapes)," he says. "It's not going to take me that long." For Narby, 14 and 16 hour weekend days are not unusual. And during the crush and fermenting season lasting the next month, the grapes require his attention daily, mornings before Boeing and nights after Boeing.
Narby is a garage winemaker, a blend of an old fashioned craftsman and a modern micro-entrepreneur. With his wife Carol, a lawyer, he owns Nota Bene Cellars, a decidedly different venture. Narby owns no vineyards. Nor does he host customers in an elegant tasting chateau. What he has is this generic industrial space, friends who lend a hand and a desire to create wine he loves.
Thanks to the abundance of grapes in Washington, garage wine makers like him have proliferated throughout the state. In and around Seattle you find them creating their elixirs in cellars, warehouses and even an old auto repair shop. What they're doing is centuries old. In Europe, they're called "garagistes."
A few "garage wines" from California have attained cult status, selling their limited supplies for more than $1,000 a bottle. But the garage wines produced in Seattle are less pretentious and less expensive, most going for $20 to $30. Many of them have won rave reviews and, while hard to find, show up in some of the finest restaurants in New York and Chicago.
So rather than hop a train through California's NapaValley, I rented a car and drove around Seattle over three days, talking and tasting wine and occasionally lending a hand.
The winemakers I meet are lawyers, engineers, school teachers, restaurateurs and geologists. Some, like Narby, are working two jobs. Others have succumbed to the lure of the nectar and abandoned a first career to work full time making wine. "You don't fall into the wine business, you're brought in by the passion," says Ben Smith, who left his mechanical engineering job at Boeing to concentrate on Cadency Winery, located in a former auto repair shop just south of Safeco Field.
Their production is a drop in a Riedel glass compared to the state's powerhouses. Chateau St. Michelle, for instance, produces more than a million cases of wine annually. The biggest garage wineries in Seattle only make a little more than 2,000 cases of wine annually, while others may make fewer than 150 cases. All of them trade wine for help, particularly with crushing harvested grapes and later bottling. They do everything, from deciding when to harvest the grapes to how long to ferment to what varietals to use in blends. They're the winemakers and the sales force, which several say is the hardest job.
A few like Matt Gubitosa of Animale Winery are beginning to see a return on their investment of cash and sweat. "It's not for the money," says Gubitosa, a geologist who works for the Environmental Protection Agency in database management and makes wine in the cramped cellar of his modest north Seattle home. "I just love doing it. Wine making is where science and art come together."
Gubitosa, who estimates he spent about $20,000 over three years getting his winery running, just recently began taking money out of it. Bill Owen of Owen-Sullivan estimates his partner, Rob Sullivan, put between $300,000 and $400,000 into the winery over the first five years and is just beginning to see a return. At Cadence, Ben Smith says the winery would be doing well -- if they hadn't planted a vineyard on land they own in eastern Washington. McNutt left her job at Microsoft three years ago. "In theory, the winery supports us," he says. "We're putting food on the table, but we're not getting rich."
The winemakers share ideas and equipment. Narby borrows the bottling machine from nearby Owen-Sullivan Winery. Owen is using a yeast for fermentation this year that he learned about from Smith at Cadence. Cadence and Owen-Sullivan split a truck hauling grapes from one vineyard.
Most started small, dipping in as hobbyists for a few years, then finding their passion drove them to go commercial. Gubitosa recalls his father telling tales of making wine with his grandfather during Prohibition. When his brother moved to California, he helped him make wine then tried it himself in 1991, producing four cases. A decade later, he made his first commercial vintage of 143 cases.
Smith and Narby began with the Boeing Employees Wine and Beer Makers Club, an incubator for several garage wine makers. Smith crushed 100 pounds of grapes the first year, then 400, then 800. "It was a nasty progressive slope I was going on," he says. This year, he will crush 38 tons -- 76,000 pounds of grapes.
In 1997, he and his wife, Gaye McNutt, put together 50 pages of Excel spread sheets and a five year business plan. He put his fudge factor on it, then handed it to her and she added her fudge factor. "It still looked like we wouldn't do too badly," Smith says. They took some of their homemade wine to vineyards where they wanted to buy fruit and offered sample. The owners, Smith says, agreed they knew what they were doing and agreed to sell them grapes. And then they took their plan and their spread sheets to the bank, which gave them the loan to buy the equipment and move into the first floor of a building with light industrial space. Above them in the office space, was a job placement agency for recovering alcoholics.
What was one of the first things they learned? "Home hobby equipment is not the right size for a commercial winery," Smith says, laughing.
Sherrill Miller and Rich Higginbotham, husband and wife, purchased the E.B. Foote Winery in the basement of a strip mall in Burien, not far from the airport, from Eugene Foote in 1991 after joking about buying it following a visit. They'd never made wine. Miller, a former third grade teacher, took a three-day course on wine making, dutifully recording everything she heard in a notebook, though she confesses it didn't make any sense to her then. "We didn't even know the questions to be asked," she says. "There's a lot to be said for igorance is bliss. But we muddled through."
They have a volunteer list of about 65 people, run 150 tastings annually and even host quarterly comedic theater in the winery's open space. "We have fun with our wine," Miller says. "That's what it's all about. Life is too short to be serious.
Higginbotham retired four years ago and Miller stopped teaching this year. They felt they couldn't give the winery the focus it needed working two jobs. "We decided we could live on his retirement pay as long as the winery paid for itself so I quit. I'll get my retirement pay eventually, but not for a while," she says. "We get to make wine and meet great people."
Running on the financial edge is typical, even for the bigger garage wineries like Foote, which makes 2,200 cases a year using only volunteer labor ("If we don't get paid, why should we pay them?" Miller cracks), and Owen-Sullivan, which makes 2,000 cases.
On the afternoon we met, Bill Owen had been sleeping in the sprawling 4,500-square foot warehouse for three days, preparing for the crush season. What made him think he could create fine wine in a warehouse? "It's all I can do," he says, noting that he didn't have the money to build a multi-million dollar wineyard and winery.
"The difference between us and California is we're probably the poorest state. There's more people with no money making wine here. We don't have anything," he adds. "So basically we work with the fruit end of it. That's the most important part."
They may not have the money manipulate juice the way big wineries do, but they have those famous Washington grapes and their palates. So they make the wines they want, not the wines they think buyers want. "It's all about personal style -- if you like fruit forward wines, if you like wines that age," Smith says. "Fortunately, most of us are small enough that we can find an audience. We don't have to do marketing studies to find the wine that fits the market. We find the market that likes our wine. That's key."
For Smith, the 2005 harvest yielded fewer grapes -- he'd planned to crush 44 tons -- but they were smaller, more concentrated with flavor. "I'm not the kind of guy who touts every vintage, but it's my kind of year," he says. "It's just exactly what you'd wish."
The wines may be born in utiltarian industrial spaces, but they find homes on fine white linen at restaurants like Grammercy Tavern, Jean Georges, La Bernadette in New York and True and Charlie Trotter's in Chicago. Wine and Spirits magazine gave Cadence the 2002 "Artisan Winery of the Year" award. The Wine Spectator consistently gives wines from Cadence and Owen-Sullivan scores in the low 90s. "From their jury-rigged winery in a nondescript business park near Seattle-TacomaAirport, Bill Owen and Rob Sullivan are making some of Washington's plushest and headiest reds…They make small lots that just keep getting better with each vintage," wrote Harvey Steinman in The Wine Spectator.
The Seattle Times wine critic noted that Animale's fruit forward, oak restrained reds were hard to find, adding "they are well worth searching out — beautifully made, reasonably priced, and just a bit quirky, styled to fit the winemaker's own very precise palate."
Most of them make reds in the French Bordeaux style, blending the juice from four or five grapes. A few also make whites. Narby read once that there are more than 400 choices on the path from vine to bottle. "Wine is about making choice after choice. You get 500 guys the same grapes, they're going to make umpteen different choices and come up with different wines," he says.
Narby's' 2001 Miscela, a rich red is 49 percent Merlot, 34 percent Cabernet Sauvignon, 15 percent Cabernet Franc and one percent Petit Verdot. Owen-Sullivan's 2003 BSH blend, for instance, is a big wine featuring 70 percent Carbernet Sauvignon, 25 percent Merlot and 5 percent Cabernet Franc. At Cadence, Smith and McNutt create some blends featuring grapes from a single vineyard, noted on the label. So their 2002 Tapteil Vineyard, Red Mountain is 49 percent Cabernet Sauvignon, 34 percent Merlot, 15 percent Cabernet Franc and two percent Petit Verdot.
That's where their palates predominate. Each winemaker creates a unique blend. "There's only one person you're competing against in this business and that's yourself," Owen says.
At Cadence, Smith and McNutt sit down with beakers from 12 different barrels and start making one blender after another, guided by experience and their tastebuds. Then they come back two weeks later and do it again, making sure they didn't fool themselves the first time.
Of course, it all starts with the fruit. And that's what Narby and Zunser are wrestling with this night. Eventually, they use the fork lift to raise the bins up to the crusher stand. It works, though somewhat awkwardly. Zunser hangs on until about 9:30. Narby leaves an hour later.
He's back the next morning and the next evening. Over the next three weeks, he'll head to the winery nearly every morning and night. A trucker he'd hired will quit in mid-harvest, stressed by the repeated trips to eastern Washington. So Narby will rent a truck, drive to the vineyards on Fridays, pick up the grapes and then crush on Saturdays and Sundays. One Friday, he leaves at 7 a.m. and return about 11 p.m. Another weekend, he will pick up grapes at two vineyards, meet with a distributor in eastern Washington, give a presentation to about 50 wine enthusiasts then slump into a hotel bed. He'll get up early on a Saturday, pick grapes, head to the winery to crush and be there just in time to lead a tour group.
"The truth is that I'm new in the business and I can't afford to pass up opportunities to promote the wine," he says.
He'd like to eventually leave Boeing and work the winery full time, but he's enjoying his job at the aerospace firm more than ever after 27 years. So he stays. For now. Still the winery's blend of physical labor, agriculture, science, mechanics and culture are enticing. That's why he's here day after day. "You can't beat this sort of blend of adventures as a means to make a living," he says.
--end --