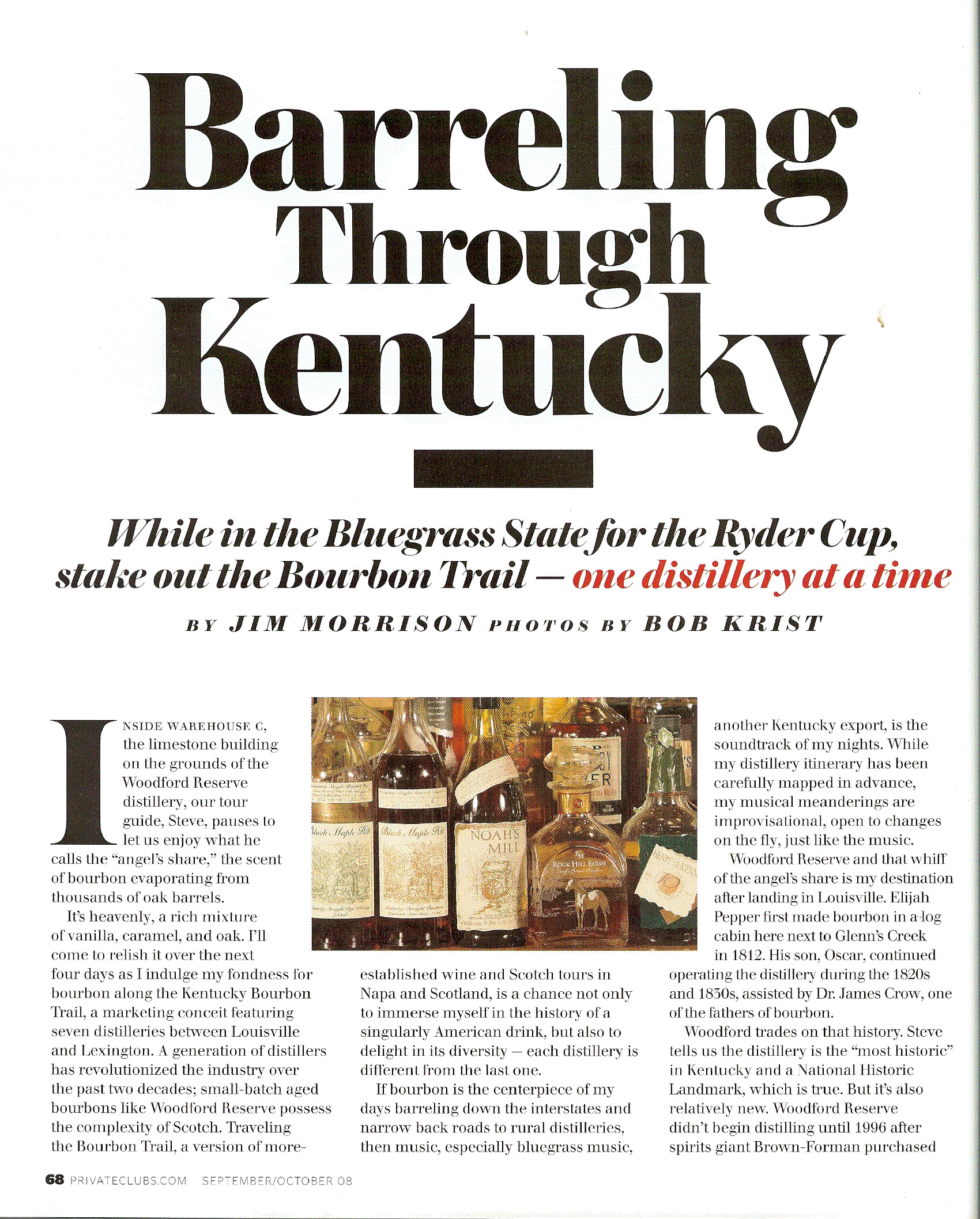 From Private Clubs

Inside Warehouse C, the limestone building on the grounds of the Woodford Reserve distillery, our tour guide, Steve, pauses to let us enjoy what he calls the "angel's share," the scent of bourbon evaporating from thousands of oak barrels.

It's heavenly, a rich mixture of vanilla, caramel, and oak. I'll come to relish it over the next four days as I indulge my fondness for bourbon along the Kentucky Bourbon Trail, a marketing conceit featuring seven distilleries between Bardstown and Lexington. A generation of distillers has revolutionized the industry over the past two decades; small-batch aged bourbons like Woodford Reserve possess the complexity of Scotch. Traveling the Bourbon Trail, a version of more-established wine and Scotch tours in Napa and Scotland, is a chance not only to immerse myself in the history of a singularly American drink, but also to delight in its diversity — each distillery is different from the last one.


If bourbon is the centerpiece of my days barreling down the interstates and narrow back roads to rural distilleries, then music, especially bluegrass music, another Kentucky export, is the soundtrack of my nights. While my distillery itinerary has been carefully mapped in advance, my musical meanderings are improvisational, open to changes on the fly, just like the music.

Woodford Reserve and that whiff of the angel's share is my destination after landing in Louisville. I head east 60 miles through rolling hills and limestone outcroppings on Interstate 64 to Versailles (pronounced ver-SALES), then follow a winding, two-lane road bordered by manicured thoroughbred farms to the pastoral distillery site.
Elijah Pepper first made bourbon in a log cabin here next to Glenn's Creek in 1812. His son, Oscar, continued operating the distillery during the 1820s and 1830s, assisted by Dr. James Crow, one of the founders of bourbon.
Woodford trades on that history. Steve tells us the distillery is the "most historic" in Kentucky and a National Historic Landmark, which is true. But it's also relatively new. Woodford Reserve didn't begin distilling until 1996 after spirits giant Brown-Forman purchased the abandoned site, spending $7 million to restore the buildings. Steve straddles this divide, calling Woodford "a new kind of bourbon made the old-fashioned way."
Woodford is also an example of a modern distillery created for visitors, part industrial workspace and part historical theme park. Visitors are shuttled a short distance down the hill from the visitors' center where the tour begins in one of the historic limestone buildings.
Steve shows us the process from beginning to bottling, starting with the grain and the 7,500-gallon cypress vats that cook the mash, moving to the pot-bellied copper stills, imported from Scotland, in the next room. After the barrels are filled, they are rolled on old rails to the warehouse across the lane to age.

Entering the cool, moist stone warehouse with rack after rack of barrels is like stepping back 150 years in time into a bourbon cathedral. It's here where the clear "white dog" from distillation transforms into a smooth amber elixir as the drastic temperature changes — especially in the late spring and summer — draw the liquid in and out of the charred oak staves.

Just 100 barrels of Woodford Reserve are made weekly compared to about 4,300 barrels produced by the Jim Beam distilleries. Like many bourbons, each barrel is tasted periodically and when they're deemed ready, a selection is dumped and blended.

The tour finishes at the visitors' center with a tasting showcasing a mildly sweet bourbon with a nose of roasted caramel and vanilla — just what we smelled entering the warehouse — and then Steve heads back to where I found him, easing into a rocker on the porch, awaiting the next group of bourbon fans.
"Go ahead and stick your nose in there, but be careful," says Bernie Lubbers, as we look at Fermenter 15 at the Jim Beam Distillery in Clermont, 30 miles south on Interstate 65 from my room at the historic Seelbach Hotel in downtown Louisville. I dive in too fast; the pungent carbon dioxide packs a punch, snapping my head back. Lubbers laughs. If walking into a warehouse filled with barrels of bourbon gives you a bit of the angel's share, sniffing a fermenter is the devil's revenge.

Woodford is charming; Beam is industrial. The company has 19 of these fermenters, each holding 45,000 gallons, according to Lubbers. It has 72 rack houses, nine stories tall. Some hold more than 50,000 barrels. On any given day, about 2 million barrels of bourbon are resting at Beam's warehouses. There's a souvenir shop, but no visitors' center, although one is planned.

Lubbers is a former stand-up comic, bluegrass aficionado, and, of course, longtime bourbon sipper. When we later taste a bit of the hot, 126-proof "white dog" straight from the distiller, Lubbers goes back for seconds — and thirds. "I could sit here and drink this all morning," he says.

He's one of three "whiskey professors" who travel from state to state, festival to festival, meeting to meeting, educating potential bourbon connoisseurs. Beam makes a long list of bourbons, including the flagship Jim Beam brand and small-batch bourbons, including Basil Hayden's, Booker's, Baker's, and 90-proof Knob Creek, Lubbers' favorite.

All those brands, he notes, are made with two basic grain recipes, though he says even he doesn't know the exact ratios. Basil Hayden's has a delicate spiciness partly thanks to a doubling of rye in the mash. But what matters most to him is aging and the proof after distillation before barreling. "Time and proof mean something," he says.

Time — aging — is one of the requirements for bourbon, which is created from a set of strict standards. The mash must be 51 percent corn. It can be distilled to no more than 160 proof and goes into the barrel at no more than 125 proof. The barrels must be new, charred white-oak. They're used once and then sold, often to distilleries in Scotland. No additives other than water are permitted during bottling.

Those standards serve as diverging points for the state's master distillers. By changing the recipe for the other grains used in fermentation — wheat, rye, malted barley — and by varying the distillation proof, aging time, and location in the warehouse, bourbons can range from smooth and sweet to fiery and spicy and everything in between.

"It's like great chefs making different meals from the same ingredients," Lubbers notes.

Booker's, named for the late distiller Fred Booker Noe, grandson of Jim Beam, ages for six to eight years, but is placed in the "sweet spots" on the fifth and sixth floors, just above the black mold covering the bottom of the tin Beam warehouses. That top of the mold is the boundary between the cool moist floors below and the hot, dry floors above. "Booker made a roast every Sunday," Lubbers says, "and the pieces on the end were well done. The part in the middle was the center cut, the most perfect for him. He kind of looked at the rack houses in the same way."
Unlike other bourbons, Booker's is bottled directly from the barrel, uncut with water, so it is between 121 and 127 proof. "If you have more than two," Lubbers says, "you better have your pajamas on."

After our tour, we taste several small-batch bourbons and then I tell Lubbers I'm headed over to Maker's Mark after lunch. "You couldn't find more night and day," he says of the differences between Maker's Mark and the Jim Beam products. "And we all end up with the same thing — bourbon."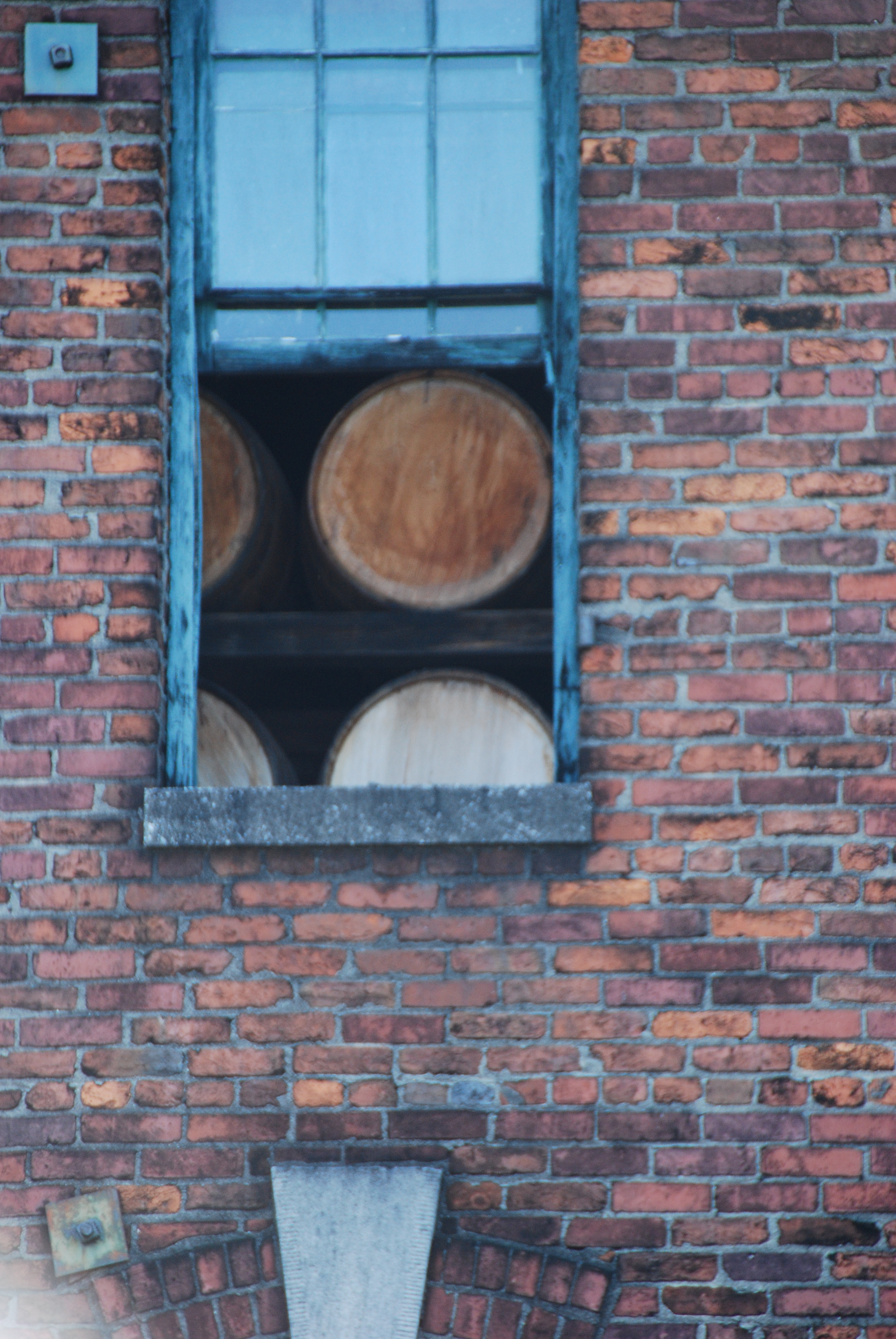 On my second day, I eat lunch at the Old Talbott Tavern in Bardstown then make a winding drive south 20 miles on two-lane roads to the outskirts of Loretto, where a small sign at a bend in the road announces that I've found the Maker's Mark Distillery.

If Jim Beam can trace its bourbon heritage seven generations to the early 19th century, Maker's Mark can do it one better, going back to 1784 when Robert Samuels, a Scottish-Irish immigrant arrived in Kentucky and started making whiskey.

In 1953, Bill Samuels, his great, great, great grandson, decided to go back into the business after a few years away and he burned the 170-year-old family recipe, reinventing his bourbon to include 16 percent red winter wheat instead of rye in the mash, making it distinctively sweet. The name was suggested by his wife, Margie, who collected fine English pewter with the maker's mark on it. She also suggested that every bottle be hand-dipped in red wax, which has become Maker's trademark (actually the dripping tendrils on the bottles are trademarked, not the wax itself).

That red wax is reflected in the red shutters on the buildings at the bucolic distillery, which features a small, rock-walled creek running through the property. "We do a lot of stuff hands-on," Potter tells me when we stop by the bottling line and watch employees hand-dipping bottles in wax. "We're a model of inefficiency."

Maker's rotates barrels in its warehouses, the only distiller to do that. The reason? It makes only one bourbon and strives for consistency, placing new barrels on the hot, dry top floors for three years where the bourbon gets most of its color and flavor as it moves in and out of the wood. Then they're moved to the lower floors for three years to develop the sweet, smooth finish.

The well-designed tour, like that at Woodford, takes visitors through the entire bourbon-making process. Afterward, Potter hosts a tasting in Maker's new $2 million visitors' center, cleverly hidden behind a door in a barrel warehouse. "We wanted to create a Disney-like feel," he says.

At the center, visitors label and dip their own bottle of Maker's. Potter sets up glasses of bourbon that has been aged for nine years. "Rye bourbons get better with age," he says. "Wheated bourbons don't." Indeed the over-aged wheated bourbon is bitter, unappealing, while Maker's is sweet, finishing nicely. It's another lesson on the Bourbon Trail.

From Maker's, I find my way back to Bardstown to check in at the Jailer's Inn, a bed-and-breakfast carved out of the Nelson County Jail, which operated from 1797 until 1987. Paul McCoy's parents purchased the jail at auction in 1998 and his mother transformed it. In 1995, he took over the operation, he tells me the next morning over a breakfast of baked French toast with cream cheese and strawberry preserves, fresh fruit, and fresh baked goods.
"Did you hear the ghosts?" he asks, then gives me a history lesson highlighting the hangings that regularly took place in the courtyard. I didn't hear the ghosts, sleeping soundly after a couple of bourbons, but others have. The Travel Channel named the inn one of the 10 most haunted places in America.

A listing in the local weekly and a recommendation from Bernie Lubbers sends me back 40 miles to Louisville to the Rudyard Kipling, a hole-in-the-wall bar and listening room. The John Cowan Band is playing. Talk about getting some of the angel's share. Cowan is the angel-voiced former singer for the New Grass Revival, a band that for nearly two decades did with bluegrass what small-batch makers are doing with bourbon — made something new the old-fashioned way.

When the sound system proves balky, Cowan decides to play without one. His five-piece band rips through old bluegrass, but also bluegrass-tempered covers of songs by Led Zeppelin, Frank Sinatra, Dave Alvin, and the Moody Blues. It's a heady, cozy two hours of music with perhaps a few dozen fans, just the way to end the day.

From Bardstown the next morning, I drive the Bluegrass Parkway 50 miles to Harrodsburg, the last stop on my version of the Bourbon Trail. I check in at the genteel Beaumont Inn, a former women's college dating to 1845, enjoy a meal at its Old Owl Tavern, one of the few places in town to get a Knob Creek or any drink by the glass, and ask about music in the area. It's Friday night, and I'm told I should head a couple of miles out of town to the Barn on Buster Pike in Burgin.

The Barn, in the midst of several trailers along a gravel road, is just that — a low-slung, gray, weathered barn. At one end is a homemade stage with a seven-piece band, the Kentucky Strangers, led by 75-year-old Tommy Hurst, who sits on a stool stage right and plays bass, calling out the songs and the keys. The $7 cover is collected by his aunt, 92-year-old Mary Rose, who asks me if I'd like to sing or play an instrument and recommends the fried chicken, donuts, and sandwiches — they're all free. The band is occasionally joined by local singers, including deli owner Joe Burke, who favor old-time country made famous by artists like Waylon Jennings, Don Williams, Patsy Cline, Freddy Fender, and Jim Reeves.

During the break, Tommy comes by to welcome me, a new face in a crowd of about 60 people, and explains that he bought the barn about 10 years ago to have a place to play. People started coming and he soon needed to expand. Band members have changed over the years — the guitar player is new tonight, never even practiced with them, he says — but the routine never does. They play every Friday night from 7 to 10.

The next morning I crave one last shot of angel's share, so I make the short trip 30 miles on US 127 north to Frankfort and the Buffalo Trace Distillery. Reservations are required for the two-hour tour of the entire distillery, so I take the shorter one featuring a film, a trip through the rack house and that heavenly scent, and a tasting. By now, I know enough that I'd like to try the 12-year-old W. L. Weller, a wheated bourbon made here, but the gift store doesn't stock it.

On my way out of town, I stop at a liquor store and ask for the Weller, but they only have 1.5 liter bottles, too bulky for my suitcase. "That's good stuff," the clerk says. "It goes out as soon as we get it in. Nobody has any in the smaller bottles."

I'm disappointed, but also pleased. After four days, I know good bourbon when I smell it.
-----end----
Mapping Out Your Own Bourbon Trail
Distilleries
Buffalo Trace Distillery, 502-223-7641; buffalotrace.com
Four Roses, 502-839-3436; fourroses.us
Heaven Hill, 502-337-1000; heaven-hill.com
Jim Beam Distillery, 502-543-9877; jimbeam.com
Maker's Mark Distillery, 502-459-7884; makersmark.com
Wild Turkey, 502.839.4544; wildturkeybourbon.com
Woodford Reserve, 859-879-1812; woodfordreserve.com
Tours
Maker's Mark and Woodford Reserve offer tours that show the bourbon process from beginning to bottling. Tours last about 90 minutes, including a tasting. Reservations are required for Buffalo Trace's two-hour tour. If you show up at the distillery without a reservation, you will see a video, visit a rack house, and get a tasting.
Lodging
When you visit Maker's Mark, stay in Bardstown, a cozy historic town about half an hour from the distillery with a range of lodging and eating options. For Buffalo Trace or Woodford Reserve, stay in Lexington or Harrodsburg.
Bardstown
Beautiful Dreamer Bed and Breakfast: Cozy rooms and a porch with a view.
502-348-4004, 800-811-8312; geocities.com/bdreamerbb/
The Jailer's Inn: Funkily decorated rooms and an excellent breakfast in the heart of Bardstown. (800-948-5551); jailersinn.com
The Old Talbott Tavern: Historic inn with five finely appointed rooms in the bed and breakfast. 502-348-3494; talbotts.com
Harrodsburg
The Beaumont Inn: Small, comfortable rooms on a green, historic college site. Quiet and reflective. 800-352-3992; beaumontinn.com
Historic ShakerVillage of Pleasant Hill Country Inn: 15 restored 19th-century buildings offering a range of rooms, including suites and cottages, in the peaceful hills of bluegrass country. 800-734-5611; shakervillageky.org
Food
Bardstown
Cafe Xavier: Simple and cheap sandwiches in the basement of the building also housing the Oscar Getz Museum of Whiskey History. 502-349-1116
My Old Kentucky Dinner Train: A four-course meal featuring a choice of fish, fowl, or beef, and a children's menu. 502-348-7300; kydinnertrain.com.
Old Owl Tavern: Sophisticated food, everything from quesadillas to a grilled rib eye and an excellent selection of bourbons ; www.beaumontinn.com/tavern.htm
Still Bill's: Try the fried chicken. 502-349-2007.
Versailles
Melissa's Cottage Cafe: Home cooking and worth the wait, if necessary, for the meatloaf sandwich or the chicken BLT. 859-879-6204;
Music
Bardstown
The Old Talbott Tavern, 502-348-3494; talbotts.com
Burgin
The Barn, 859-748-9689;
Louisville
BLU, 502-627-5045; blugrille.com
The Rudyard Kipling, 502-636-1311; therudyardkipling.com
More Information
www.kentuckybourbontrail.com/#