Under the eave of the public restroom on Locust Street in downtown Floyd, the players lean in and softly start picking and singing an old country classic.
For the first time in a long time,
I want the sunshine to shine on me,
I want those hillsides to feel me walking
And I want your love all over me.
Four men with acoustic guitars and three others with fiddles sit in a ragged semi-circle, nodding, trading licks and occasionally joining in on harmonies. The song, recorded by Jessi Colter for her chart-topping debut 40 years ago, fades away and the players begin to rearrange, a guitarist packing up to move down the street.
Greg Ward, a retired advertising executive, artist and musician who moved from the suburban Washington area to an apartment up the street about a year ago, ventures out Fridays to play with his new friends, often guys who for decades have played for pay. Next to him is Carleton Harmon, his "adopted father" and someone who began strumming in Texas country bands in the 1950s.
Ward began as a classical musician, moved into punk in high school, then on to singer/songwriters like James Taylor and Simon & Garfunkel before immersing himself in the D.C. bluegrass scene beginning in the mid-1970s.
"This is pretty much the heart of this music, Appalachia and the Blue Ridge," he says. "It's still treasured here. People want to keep it alive. They see the true value of it. "
Those treasures are on full display in Floyd, a one-stoplight town on a plateau along the Blue Ridge Parkway southwest of Roanoke, about five hours' drive from Hampton Roads.
This is the home of FloydFest, the four-day music and arts festival started in 2002 that each summer brings thousands of people and some of the hottest Americana and World music acts to the area. This year, the performers included Grace Potter and the Nocturnals, Old Crow Medicine Show, The
Del McCoury Band, Trampled By Turtles, and Donna the Buffalo.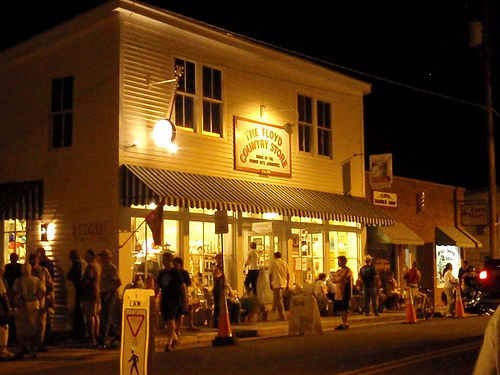 But Floyd lives FloydFest on a small scale year-round. The town of 440 swells with musicians and music fans for the Friday Jam every week. Hotel rooms are booked weeks, sometimes months, in advance for tourists from New England to North Carolina. Parking is difficult. Restaurants fill early.
On the street, you'll hear everything from string band music to bluegrass covers of the Beatles. At the Dogtown Roadhouse and Sun Music Hall, there's a rollicking night of music that begins with a couple of rock and boogie blues bands and ends with Charlottesville semi-sensitive singer/songwriter William Walter and guitar demigod Tucker Rogers.
Woody Crenshaw, the owner of a local lighting studio, helped create the phenomenon. Eight years ago, he bought, restored and expanded town's centerpiece, the Floyd Country Store, which for decades has featured musicians on Friday nights. "We had this idea that if we made the country store a place where musicians wanted to come and hang out, that everything would follow, and it has worked out that way," he says. "The street scene on Friday night has really developed dramatically. It's larger. It's more dynamic. There are more people."
What's surprising about Floyd is that the vibe is energetic, more eclectic than you'd expect. It's not only good ol' boys in camouflage. Four decades ago, hippies began moving into this area to found communes next to working farms. Now, their children have grown, gone away and, in many cases, returned. North Carolinians favor Floyd as a spot for a second home in the mountains. All that contributes to a thriving community of artisans, old and new.
At first blush, old-time music and new-time hippies seem an unlikely pairing. But they're both about community and craft. The stickers given to Friday patrons at the Country Store read "handmade music," but Floyd is about more than just music crafted lovingly by hand.
You can still get good moonshine if you know someone who knows someone. But belly up to a table at any restaurant in town and you'll be handed a list of craft brews on tap and in bottles that rival any big-city offering. You'll find an old-fashioned biscuit so fluffy only the rich sausage gravy anchors it to your plate at the homey Blue Ridge Restaurant and a seared Muscovy duck breast that Tom Colicchio would love at the sophisticated Natasha's Market Cafe. Need a handmade mountain banjo? There's a luthier nearby. Looking for pottery, wood sculpture or paper artistry of the quality you'd expect down the Blue Ridge Parkway in Asheville or in urban galleries? Wander Troika, The Floyd Artists' Association, and other galleries along Locust. The Hotel Floyd, a block off the main drag, is a stylish, eco-friendly lodge with rooms built by a local woodworker that feature local art.
"It's a creative culture here that has its own kind of essential quality to it," Crenshaw adds. "People come and they recognize that, they experience that, and they want to stay. It's been nice to see Floyd grow into what probably is the most interesting small community in the state."
Music is the central pillar of that community. As dusk cloaks the main drag and the streetlights glow, small encampments of pickers materialize in the gloaming. In the alley next to the country store, a half-dozen old timers sit around, one playing a mountain banjo made by a local luthier.
Across the street, a trio with a banjo, upright bass and acoustic guitar make a newgrass pass on Simon & Garfunkel's "Sounds of Silence." Over the next few songs, other players, including an older man confidently playing dobro and a young woman tentatively joining in on her own, new, dobro, become part of the group. They move easily between pop classics by the Beatles and Doc Watson's classic bluegrass moonshine tribute, Mountain Dew. A young visitor joins in on John Denver's Take Me Home, Country Roads.
Performances on Friday nights blur the boundary between audience and performer. Just down the street at Oddfellas, a restaurant of booths and mismatched country tables, diners occasionally join in with a quartet playing Bob Dylan, The Grateful Dead and Creedence Clearwater Revival covers. One couple, newly engaged guitarists from Greensboro, have driven to town for a getaway weekend. "Music heals you," she says, before taking her turn singing on stage.
Oddfellas fits neatly into the Floyd oeuvre, offering smoked salmon mousse with crab, herb-cured salmon, and blue cornmeal-crusted catfish with chipotle cream to a crowd that ranges from middle-aged guys in ball caps with their families to tattooed trendies in cool boots and thrift store chic.
Down the way in a small band shell in the budding town park, the Lone Ivy String Band is practicing before a few dozen onlookers. Jim Pendleton is watching his son, Michael, the band's fiddler. Michael played in a rock band for years, but he's come back to the future.
"We finally got him playing country music," says Jim, whose cousin, Buddy, is a renowned fiddler in these parts. Buddy's Gems from a Master Fiddler is for sale in the country store.
In the Floyd Country Store, the hub of this tuneful spoke, the gospel hour is over and a square dance interlude is finishing. The caller concludes, "And promenade your partners all," and men and women – some longtime partners, others strangers – return to dancing to the Black Twig Pickers, a young quartet playing old-time string music.
On the street, the number of musicians and fans seems to have doubled as 10 p.m. approaches. Cars, some muscle machines showing off, cruise bumper to bumper. Hard liquor, at least legal hard liquor, isn't available in Floyd. So it's a family scene. Children run through the park and on the sidewalks, unattended.

At one end of town, there's a triple bill at the Dogtown Roadhouse and Sun Music Hall. Earlier, the deck was a perfect spot to watch the sun set and drink a North Coast Blue Star wheat ale on tap. Now, Jon Roberts, a Norfolk native with the hat and mutton chops favored by music hall managers the world over, collects the cover and explains that he bought the joint about a year ago. The crowd is younger and the opening acts are louder. Walter and Rogers mix originals and covers of '70s songwriters in a catchy set that at different times brings to mind Jack Johnson, Neil Young, and especially Dave Matthews and Tim Reynolds.
By the time their set finishes, only a few pickers remain on the street. It's 11 p.m. and, in a small town, that's time to go home.
The next morning, there's a trio playing at the farmers' market under the roof of the Floyd Community Market, across the street from the country store. In Floyd, it seems, the music never dies. The market, featuring produce from farmers within 100 miles, has everything from peaches and green beans to heirloom tomatoes and fresh quinoa bread. There's a tasting competition for the top tomato staged by Sustain Floyd, a nonprofit organization dedicated to preserving the past and developing the future.
Overlooking the farmers' market is Black Water Loft, a second-floor coffee shop and lounge with ridiculously low prices and a delicious feta and green onion scone to start the day.
Handmade music may be the reason travelers trek to Floyd, often with a roller coaster ride on the Blue Ridge Parkway, but the crafts and the food provide an excuse to linger.
The Station, just down from Black Water, is home to the kind of galleries and shops you'd find in an upscale metro neighborhood. In Troika, nearly all the 20 artists on display are from Floyd. There's a healthy mix of photography, paper work, jewelry and pottery.
Walking up Locust, I browse the Bell Gallery & Garden, which focuses on the owners' landscape photography and glass; the New Mountain Mercantile, a collection of candles, clothes, and even cats from the humane society for adoption; and Farmers' Supply, a throwback selling everything from cast iron pots to cutting boards, leashes, fishing poles and wall switches.
On Main Street, Chic's Antiques, three floors of stuff, is selling a mahogany dresser/sideboard for $250. I think it's probably a bargain, but I have neither the expertise to know nor the truck to haul it home. What intrigues me is a collection of old oil cans, cans with Esso Handy Oil, Blue Ribbon Lubricating Oil, and Fine Parts Oil labels. They go for $7 to $10. I didn't realize antique oil cans were collectible.
Lunch is pizza and beer on the deck at Dogtown, which already feels like a base of operations for future Floyd excursions. The waitress suggests a Summer Solstice Cerveza Crema from California's Anderson Valley Brewing Co. to go with the Paisan pie – local sausage with fennel, caramelized onions and a house cheese blend. The combination works.
Then it's another lap around Floyd, to the other end of town where there's an organic food store. On the way back, I drop in to the Republic of Floyd, the town's main beer and wine store with a stellar collection of craft suds. There, Tom Ryan, another refugee, holds court. He ventured here for a woman and stayed to open the store. "I'm following my dream – beer," he says.
Dinner at Natasha's Market Cafe on the north end of Locust Street winds down a laid-back day. The square white room is lit in the early evening by large windows at one end, featuring views of weathered red and white barns. Natasha Shishkevish moved to Floyd after years cooking in Georgetown, Baltimore and Ohio, working at Oddfellas before opening a restaurant dedicated to the area's seasonal bounty. And it's not only a restaurant; it's a gallery as well with pottery, sculptures, and paintings by area artists for sale.
The menu is so varied and so enticing, I ask the waitress twice for more time, eventually settling on chickpea fries with spicy dipping sauce and a seared duck breast with a dried cherry sauce. Healdsburg Ranch Cabernet Sauvignon from the reasonably priced wine list matches perfectly.
The dinner is leisurely and, I think, a celebration of the handmade, a fitting coda for a weekend escape.