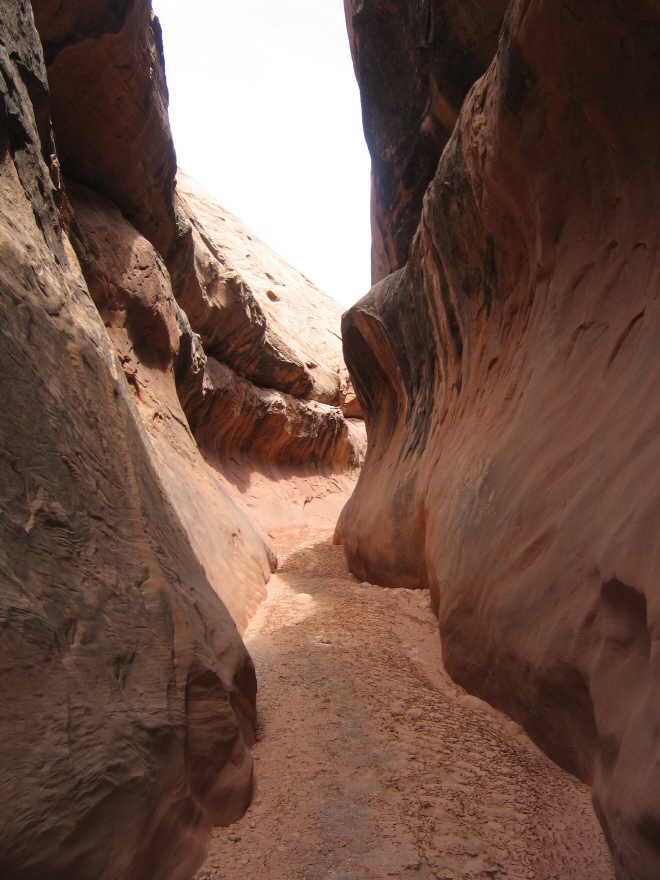 From American Way.

"This is Glen Canyon. This is what it was like, slow moving water...side canyons," says Wade Graham as we pad through a shallow stream bed up Smith Fork Canyon, just off a kink in Lake Powell. Sixty feet above us, a white line -- called the bathtub ring by locals -- demarcates the reservoir's surface for most of the last generation.
A deep drought has dropped the lake by nearly 150 feet in the last five years, leaving it less than half full. As the reservoir has receded, the red rocks have emerged again into the desert sun. Stunning formations with names like Cathedral in the Desert, archaeological sites and slot canyons have appeared after 30 years in watery seclusion. Side canyons like this one are once again open for miles of hiking not possible since Glen Canyon Dam, the last big water project of the West, was completed in 1963 and the Colorado River began backing up to create Lake Powell.
Up ahead, Chris Peterson hikes beneath an arched rock wall streaked with desert varnish. Peterson, now the executive director of the Glen Canyon Institute, an organization dedicated to draining Lake Powell, was among the first to discover that the rapidly falling water levels were unveiling treasures that hadn't been seen for decades.
I holler, asking if he's hiked this side canyon before. "No. My first time," he shouts back, the words echoing softly. "Probably the first time anyone has."
What Peterson means is we may be the first to hike through since the drought. We're certainly not the first. Before the dam, these sun-burnished red rocks were visited often by hikers, scouts (the trip was a final requirement for Eagle Scouts from Salt Lake in the late 1940s and 1950s), fishermen, and others. They came to see signature places with names that told of their epic grandeur, places like Rainbow Bridge, Music Temple, Hidden Passage, Forgotten Canyon, Hole in the Rock, Lost Eden, and Cathedral in the Desert, which the author John McPhee called the most beautiful spot in Glen Canyon.
Before the dam, this 200-mile stone trough was much as 1,200 feet deep in places, inspiring reverie from the days John Wesley Powell first led an expedition through here in 1869. Barry Goldwater floated the river in 1939, recreating Powell's journey, stopping here at Smith Fork to take pictures and fill canteens. The water, he wrote, was very good.
Novelists Edward Abbey and Wallace Stegner explored the canyon before and after the dam, extolling its lost virtues. "The canyonlands did have a heart, a living heart, and that heart was Glen Canyon and the golden, flowing Colorado River," Abbey wrote after the lake had filled.
The veins and arteries of that heart are side canyons like this one, laced with bridges, knobs, cool grottoes, potholes, amphitheaters, meandering streams and soft thickets of green cottonwoods, willows and tamarisk.
Peterson's assertion that we're the first here is symbolic of the feeling of joyous rediscovery that comes as we stumble over rocks and pad barefoot through soft stream beds that have been submerged for a generation. To get back here, our boat crept around bluffs of Navajo sandstone then weaved through a line of cottonwood skeletons, their trunks still submerged. While the water is low, it's not dropped enough to reveal some famous Anasazi petroglyphs near the mouth of Smith Fork.
Now, in this stream bed open once again to hikers, Wade Graham, a Los Angeles landscape architect and Glen Canyon Institute board member, and I walk from the beach where we've anchored our boat. The lake has been rising a foot a day thanks to an unusually large snow melt. Soon, this will be under water again, at least until the lake recedes in the fall and winter. The stream is cool, the sediment comforting on our feet as we head around a bend, the telltale white ring still high above our head. We wind our way upstream looking for a slot canyon referred to in a guidebook that Graham pulled out as we puttered down here from our wind-whipped campsite.
The stream bed gets drier as we progress. We find a small grotto where the other three in our party, including Peterson's brother, Brad, decide to spend the afternoon swimming. Later, they tell us the pool is filled with large crayfish.
Eventually, we catch up to Peterson, who points out a cottonwood that has reached about 12 feet tall. He'd promised the swift return of the ecosystem would be surprising and it was. Much of the sediment deposited by the lake had been washed out by the stream. Cottonwoods, willows and some tamarisk have grabbed hold. In the stream, we spot a frog, tadpoles and a fish we can't identify. We meet a couple and their dogs, who offer advise on the way ahead.
We find one dead end, culminating in a stagnant pool with a spectacular view of a dead cottonwood framing a rock knob. Up a ways in a dried mud stream bed thick with growth, we come across trees downed by beavers, who made a dam not long ago.
After we've passed the high water mark, we climb rock mounds, scrambling along a ledge, then across a sloping slick rock face and back down to the dry stream bed, the canyon continuing to close in on us. As we round one last curve, we come to the rock-strewn wash of the slot canyon, twin walls rising 60, 70 feet above us, sandstone streaked with desert varnish that looks like dripping burnt chocolate. As we follow the bend to the right, the slot narrows with the midday sun spotlighting the walls, and the rocks under foot give way to fluffy sand. Peterson and others have spoken of the reverence they felt entering these spaces and I now understand. The slot is quiet and magnificent, both eerily imposing and gently comforting.
"It's Grand Canyon scale here," Peterson had told me earlier. "It's so epic. It's America's lost national park."
To me, Glen Canyon doesn't possess the overwhelming scale of the Grand Canyon. It's more intimate while still evoking a sense of vast, timeless beauty. Stegner wrote that the province of the Grand Canyon was awe, while the province of Glen Canyon was delight.
Stegner correctly predicted Lake Powell would become "one of the great water playgrounds." "And yet," he wrote in 1969, "vast and beautiful as it is, open now to anyone with a boat or the money to rent one, available soon (one supposes) to the quickie tour by float-plane and hydrofoil, democratically accessible and with its most secret beauties captured on color transparencies at infallible exposures, it strikes me, even in my exhilaration, with the consciousness of loss. In gaining the lovely and the usable, we have given up the incomparable."
As Lake Powell's reach has receded, more and more of these intimate, incomparable places have opened to hikers and boaters once again. In Smith Fork, Graham has fallen behind, nursing feet sore from the previous day's adventure, when Peterson and I stop, sit beneath the arching walls and have a snack of cereal bars and water. It's about all the dry food we have left.
Peterson, 30, had hiked much of the Colorado Plateau from the time he was a teen, but he'd never been interested in the area around Lake Powell. He calls the reservoir a "black scar" on the map. Then in 2002, he hiked down the lower Escalante River, one of the lake's tributaries."I always wandered what the canyons were like under there," he says. "I knew the water was lower. I wanted to see some of these places I'd heard about." He was able to go about seven miles downstream from the confluence of the Escalante and Coyote Gulch. Two years later, he was able to walk 14 miles. He was stunned by the swift return of the vegetation and the animals. He saw birds, fish and cougar tracks.
"It is like you have explorer syndrome," he'd told me before our trip. "You're John Wesley Powell or some other early river runner seeing places that haven't been seen. You're witnessing a very rare and exciting point in history, witnessing this restoration. Nothing like it has occurred in the last couple of hundred years. It's very cool."
Peterson took pictures from his hikes to the Glen Canyon Institute and, after working as an intern, was hired as the nonprofit's executive director and pied piper leading the chorus calling for the lake's draining. In the last year, Peterson and other Glen Canyon representatives have been leading hiking and camping trips into the canyons along the lake.
He and Graham had been on one of those trips camping north of our hike near Hite for a couple of days before I arrive. When their boat's engine failed above a Class IV set of rapids that appeared thanks to the snow melt, Peterson hiked a couple of miles to cell phone range to call his brother for rescue.
After they pick me up at Bullfrog Marina, we motor -- slowly at times in the wind and chop -- a couple of hours north to find Peterson and Graham on a small island next to Fort Moqui, an uncovered Anasazi dwelling. The lowered water has exposed a signature carved into a rock on the island: "John Powell 1872." That's the date of Powell's last expedition, though it's impossible to know if the marking is authentic.
They'd grown impatient -- Peterson isn't the kind of guy to sit around -- and decided to shoot the rapids in their inflatable raft without an engine or paddles. The boat flipped, ending up on the side of the shore with a sheer cliff. So they had to use a kayak to ferry their gear across a ferocious current and camp in the open. Fortunately, one of the few things that remained dry were their sleeping bags.
By the time we reach them it is late in the day, so we cruise for a friendly shore as the wind whips up rollers. We settle on a cove on the lee side near Traychyte Creek with views of massive red rock formations.
We unpack our gear and then Peterson, Graham and I get in a quick hike up a portion of Traychyte Creek, where Peterson points out coyote tracks. Back at camp, he cooks refried beans, onions and peppers for burritos. We set our sleeping bags on rocks and packed sand that had been underwater for decades. The wind is relentless, though, and none of us sleep well.
Still, the night provides a contrast between the past and the present -- and perhaps the future. The past was the muddy Colorado River coursing through the canyon, carrying hikers, campers and river runners on rafts or boats. Our trip is a glimpse of the past -- hikes up tributaries, campsites on desolate stretches of the canyon.
After the river became a reservoir, houseboats and speedboats proliferated. Two generations of Westerners have grown up using Lake Powell as a giant water park, skiing, clowning off slides on the back of houseboats and cruising in relative luxury. The number of visitors peaked at nearly 3.6 million in 1992, was more than 2.5 million in 2000 and dropped to 1.8 million last year as the lake receded. Two of the five marinas on the lake have been closed and the park service and marina operator have spent millions pouring concrete extending boat ramps to the new water level and relocating marinas. In addition to recreation, Lake Powell provides water storage upstream for the larger Lake Mead, which supplies water to 18 million people in California, Nevada and Arizona.
When Graham and Peterson gaze into the future, they see the lake slowly draining. Most years, more water is flowing out through releases required by law and evaporation than is flowing in. Water would be more efficiently stored in underground aquifers, they say. And while the big spring snow melt eased the drought, the long term forecast is dry. "Lake Powell is going away," Graham says, though he admits he doesn't expect it to happen for perhaps 30 years.
"Mother Nature has made the decision for us," adds Peterson. He says the area's economic model could change to promote river running, hiking and camping. Already, boat tours to unveiled attractions like Cathedral in the Desert have started.
Proponents of the lake, including groups like Friends of Lake Powell, argue that droughts come and go and that draining the lake would deprive millions of a stunning recreation spot.
Peterson is unconvinced. After our boat weaves back through the dead cottonwoods to the main channel of the lake, I think of the sights we've passed during our two days meandering in these waters -- The Horn, Castle Butte, Forgotten Canyon, Tapestry Wall. Why not keep the lake at some lower level without draining it? I ask.
To Peterson, there's still too much hidden below the waves. "Is it the rocks that are beautiful or is it the lake?" he asks. "I say what makes Lake Powell beautiful is Glen Canyon and we're only seeing the tip of the iceberg. If it's the rocks that make it beautiful, then let's see more rocks."
It may be years before we'll know whether rocks or water will win the long battle for Glen Canyon. In the meantime, the drought offers a rare moment to enjoy both.
Jim Morrison once slept overnight 240 feet high in a giant redwood while reporting a story for Smithsonian. He puts his Glen Canyon adventure high up with that one.

Sondra has her black jacket wrapped around her shoulders, but she's wearing her green HELP T-shirt. And she moves quickly when Petey Kitzmiller tells her to begin organizing the repotted plants in rows. There, Carol, another relatively new participant, straightens the rows and helps David count the number of each perennial. "You guys are this big green team," Kitzmiller tells them.
But one student, Lorenzo, remains distant in the midst of the work and the kidding. Sunday, he tells Scott, was his birthday. His mother forgot.
During the GED class, Scott slips out and buys him an ice cream cake with his name on it. When she enters the classroom with it, his eyes light up. "Did you know I don't like regular cake?" he asks.
He cuts a piece for everyone else before taking one for himself.
"You tap into what's been shut off," Scott says later about that day. "They put these walls up where they're not able to feel anything. They can't fee anything bad, they can't feel any joy either."
Thursday, December 4
The counselors show the group the movie, "Antwone Fisher," the story of a troubled youth with a violent temper and a history of physical and psychological abuse. As the movie runs on, Lorenzo begins covering his head with his coat. Afterward, he gets angry. The next day, he doesn't come.
But he calls Scott and apologizes: "That movie messed me up. That was my whole life story," he says. "I was real pissed off and I didn't know how to tell you what I was feeling."
Sondra doesn't see the movie. She cut days earlier in the week and Hargrove suspended her, then called her mother to tell her she was adding three weeks onto the program because of days she'd missed. Sondra agreed.
"That's their background," Hargrove says. "They go to school. Then they skip a few days. We have to get them out of that habit."
Trusts build slowly between individual counselors and students. Hargrove has become Sondra's shoulder by learning that she can't push too hard. She asks her how she's doing, gets the brush-off, and backs away.
Sondra is slowly buying into the program. She's working harder. She even admits to liking flowers now. "This program will work for her," Hargrove says. "But she has to work for it."
"A lot of these kids have been to counseling. Family counseling. Drug counseling. They don't really like counselor," Hargrove adds. "They see counselors as being in their business, trying to get into their head. They only need counselors if they're crazy and they're not crazy. So I just treat them like teenagers. I tell them I don't treat them any different than I treat my nieces and nephews.
"What these kids want and need is just to be treated like regular people."
Tuesday, December 9.
The morning features a "Jeopardy!"-style game staged by Afer-Anderson about sex education and the kids show they've been listening. They supply questions to answers about subjects like HIV, herpes, anatomy and pregnancy. The answer, "typically four to six inches in length when erect" draws a laugh from Matt in the back. But, for the most part, they take the competition seriously.
Work today is in the butterfly garden, where they pull annuals and trim back perennials. Hargrove has to push Matt and some of the guys to get to work.
Joe is agitated and moody. It turns out he partied over the weekend and is worried that he won't pass the upcoming urine test for the arborist's training program.
As she's working, Carol tells a counselor that "I'm just a whiner; it's a habit."
A few days earlier, Scott brought her back from a garden job in the golf cart, a favorite way for her to get some one-on-one counseling time. Carol, a truant and runaway, told her she was suffering from an anxiety attack, having trouble breathing. They practiced some deep breathing and yoga.
Slowly, Carol began to talk. Her mother had two older daughters when she married her father, who molested them over a period of years. Finally, he went to prison.
But the sisters blame Carol, who was not assaulted, for being the reason their molester came into the family. "She lives in a house of hate, " Scott says. "She would love to talk about it and express it, but she doesn't know how. "
Scott gave her a composition notebook and reads what she writes once a week as a means to begin counseling. The themes are familiar. "As we peel back the onion, we'll find domestic turmoil." Scott says. "That's the kid we get. The red flags are court involvement, school drop out. But the family is at the core."
It begins to rain as the work session finishes in the butterfly garden and the group hustles on the long walk back to the building. There, Hargrove reads them the riot act. Scott calls her the "big mother, the tough mother."
"For those of you who were working, thank you," Hargrove says. "For those of you who I have to ask three or four times to do something, that's not working. You have to come here and do what you're asked to do and if you can't do that, we have to find another place for you to be."
Thursday December 11
The weather is too foul for the scheduled field trip to the Cape Henry Lighthouse so Scott decides to hold her grief and loss counseling session.
She has the group arrange their chairs in a circle and they begin talking. Many of them lost a loved one to death. They also deal with grief and loss in other ways. They've lost a parent to drug addiction or to the penitentiary or to a divorce. Only one of them lives with both birth parents.
Scott begins the session asking each of them what they think happens when you die. Several say they never talk about it. A couple of students say we come back and try again to get it right. Another says the maggots get us.
Then Matt talks about how he felt pain in his hip and soon was talking to doctors who told him the cancer was so bad he might not make it through to the morning. "When I woke up and saw that I was still alive, I decided to fight," he tells them, teary-eyed. "I wanted to live." A couple of students hug him.
Meanwhile, Justin has turned his back to the circle. He's despondent. Scott and the other counselors can't get him to explain why, other than it has to do with a grandmother. Traynham takes him home early.
Monday, December 15.
It's the last week and students have been typing resumes and their letters to the Norfolk school system seeking permission to take the GED (you have to be 18 to take it without school system permission).
But this afternoon they hear a talk from Deirdre Brown of Empowerment 2010 about interviewing for jobs. The advice is basic to most people. Not them. Dress well. Make a good first impression. Ask a few questions. Follow up with a thank you note.
Then she asks for volunteers to practice before the class. No one volunteers. "Somebody go up and do an interview, " Hazelette pushes. "(David) go for one. Firm handshake, look her in the eye."
David picks up his resume, walks to the front of the room, hands it to her and say, "Hey."
That's it.
She's patient. First, she says, don't say 'hey.' Give your name, even if they have it.
Take two:
David walks up, shakes her hand and introduces himself.
"Tell me a little something about you," she says.
"I don't know what to say," he responds. "I play guitar and draw. I know how to plant trees and stuff."
The interview, though halting, moves on from there. David, the student with anxiety attacks so severe he can't attend public school, has completed a mock interview in front of the class. Hazelette leads the applause as he returns to his seat.
Next up is Eleanor, who is poised, firm and communicative. Brown says she is looking for someone to read to children and Eleanor tells her she has a younger sister and a younger brother, that she goes to the library and that she enjoys writing and reading. Brown praises her effort.
Then it's Justin's turn. He swaggers up, introduces himself but when Brown asks him what he does, he says, "Me and my homeys just chillin'." She stops and suggest he "think proper English" when being interviewed then goes on to ask him about his experience. He says he's looking for a dishwasher's job. She tells him the only opening is for a waiter. Would he be willing to learn? No, he says. Dishwashing is what he wants. Brown says she'll call if something comes open.
Wednesday, December 17
The day before graduation, Scott, Hargrove and Traynham advise the students about what to what to wear. No miniskirts. No baggy jeans. "I don't want to be wearing that tight stuff," Matt protests.
Then Scott asks them what the program has meant to them. "It meant nothing," Dorothy responds. "Ok," Scott says, "we'll pass on you."
Eleanor says now that she's completed the program she's going to get a job and save for college.
"I want to be a hard-working man now," Lorenzo says.
"I'm proud that I'm just about done with the program and I'm going to get my GED," Kathy says.
"I don't know," Carol says. Scott asks her about her favorite staff member or her favorite field trip, trying to draw her out? Carol just shrugs.
Sondra, too, refuses to answer, shaking her head.
Finally, Dorothy is ready. "I'm proud I almost finished this program," she says.
Thursday, December 18, Graduation Night
Eleanor shows up early for the 6 p.m. graduation with gifts -- small teddy bears -- for the counselors. She's wearing heels, a blue sweater and a long black skirt though she also has the black nail polish of her Goth days.
Kathy is there with her mother. She plans to go to beauty school. "They've done wonders with this one," her mother says. "She's a completely different person."
Scott says hello to Renaldo's mother and tells her: "We're trying to get him a job here." When she gets a puzzled look in return, she asks, "He didn't tell you?"
"No," says his mother.
When it comes time for the students to talk, only Sondra, the once-sullen slow walker, strides to the podium in a shimmering blue dress and heels. She's here with her boyfriend; her mother hasn't showed. She's poised, confident, thanking Hargrove for keeping her focused and Traynham for helping her with her "man problems."
"I've never been so happy in my life," she says. "To the other students, congratulations and let your dreams and hopes become successes."
POSTSCRIPT
Six of the students pass the pre-test for the GED and are ready to take it, an unusually high number. One of those is Joe, who in a previous session made little progress. But this time he worked, even coming in on the optional Friday some weeks. "Overall, his attitude just got much better and that made the difference," Hazelette says.
Over the years, Hazelette, who has been the HELP tutor since the first day, says more than 40 students have gotten their GEDs over the years.
Months earlier, Eleanor had written in her journal a poem titled, "Dead or Alive" that ended with the lines:
"I lie awake at night, tossing and turning, wondering
whether someone could ever love me
whether I will die alone or with my true love
I lie awake at night, tossing and turning, wondering
If I'm better off dead or alive
If I'm better off in heaven or hell
But all the answers are simple: Dead and Lonely!
Now, things are better at home. She plans to earn her GED and study to be a mortician at Tidewater Community College.
Scott encourages Joe, Renaldo, Lorenzo and Carol to apply for the garden's arborist training program. Renaldo doesn't show up for the interview, claiming there was a shooting outside his home that kept him up late. Traynham says he's worried about him. "Some days he comes in and he's fine. Other days he comes in and he doesn't talk, he doesn't do anything," he says. "It's a constant struggle with him."
Joe and Lorenzo both ace their interviews, pass the drug test and become the 25th and 26th graduates of the program to get jobs at the garden. Lorenzo, Scott says, is coming out of his shell thanks to the job. "I think it's going to change his life," she says.
The staff re-enrolls Sondra in the program because she hasn't written the letter requesting permission to take the GED. But during January she begins missing days. Hargrove terminates her. Sondra arrives one day with a boyfriend and demands to be reinstated. Then she goes off on Hargrove, screaming obscenities.
Matt, Levon, Dorothy and Patty call occasionally to talk with the counselors. Patty has enrolled at Tidewater Community College. Levon and Matt are back in high school, where they hate it. They want to return to the program in the spring.
Carol comes to see Scott the day after graduation to tell her that she's pregnant and her mother won't help. She needs some vitamins, she says. Her boyfriend plans to enroll in the Navy, she adds, so they'll be ok because he'll get benefits. Scott asks if he has a high school diploma. No, she says. No diploma means no enlisting.
Scott helps set her up for prenatal care. But her chance for a job and the GED are gone.
"You take two steps forward, you're going to take four back," Scott says later. "You just have to understand that. At least she has some tools now."
Jim Morrison's stories have appeared in Smithsonian, The New York Times, The Wall Street Journal, Reader's Digest and numerous other publications. He can be reached at jimmor@aol.com
---end --